To obtain a proper quotation, please use the form here on the get a quote page  (prices are guidance only, and are influnced by many factors, in a quote)
To get an estimate, look at the map below, to see which charging zone you are in, from my Base at 24160. Places outside the zone markings maybe available but I would need to do a proper quote.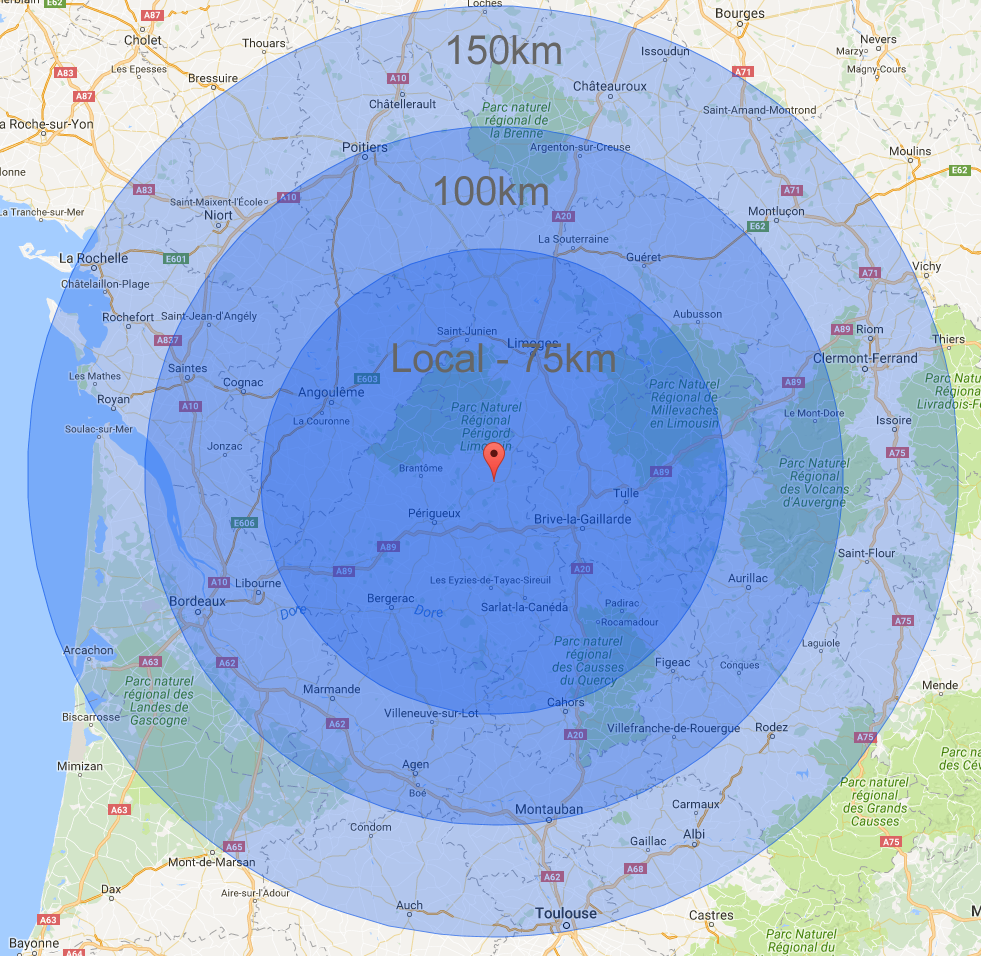 *NOTE: If you are introduced to me via a Wedding Planner, It is not unusual for them to have a small admin fee. See ** below also.

Charges are roughly made up as follows. There is a booking fee – this would be your NON returnable deposit to secure the date, and covers Travel and Accomodation when necessary.
Then add the the amount of hours of actual DJ'ing time (or DJ in attendance hours) to get a total, (noting the Minimum fees).
Prices include, Travel, accomodation, DJ, Approriate Sound System, and Lighting.
I would not normally offer to  play background music in the afternoon and during the wedding breakfast, but am happy to provide the facility for you or the venue to play their own music on iPod / iPhone etc.
Optional extras Include, PA for speeches, Music for  a ceremony at the venue or local church, prices are POA. Please fill out the form.
| | | | |
| --- | --- | --- | --- |
| Area / Zone | Booking Fee *& ** | Price per hour(s) DJ'ing | Min Fee |
| Zone 1 – max 75 km from Base e.g 8-12 |  €150 |  €150 | € 750 |
| Zone 2  76 – 100 km from Base e.g 8-12 |  €295 |  €150 | € 895 |
| Zone 3  101 – 150 km from Base e.g 8-12 |  €350 | €150 | € 950 |
| Chateau La Durantie e.g. 8pm -1 am | €150 | (dj for 5 hrs) x €150 | €900 |
Local venue, example: If you are getting Married at a local venue, Domaine d'Essendiéras, the cost for a DJ from 9pm to 1am would be €150 booking fee plus €600 (€750 total)
**(Some Chateaus have there own Booking fees to cover staffing costs etc, which would be on top of my fees, locally, Chateau La Durantie)
Longer playing times may mean Overnight Charges.
These charges are estimates, and may go up or down, depending upon Venue, Distance and other bookings / availability.
I am a registered Tax payer in France:
légal: Identification SIREN: 803 364 462 / 00017
Activité Principale Exercée (APE) 9001Z
Full terms and conditions: http://www.sounds-crazy.co.uk/wp/legal/