Here are so comments and feed back from my clients, and this, and the photo below, is what I strive to achieve at every function!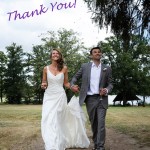 Chateau La Durantie, Dordogne, Charlotte N.- Aug 15th  2015:
"Charlotte, I hope you are back from Honeymoon now, and how was the Disco?"
Yes thanks, definitely back to the real world now! It was really fantastic, so thanks again for helping and giving us such a good night.
From yell.com Search for Sounds Crazy

11th Sqn Centenary Celebrations, RAF Coningsby – May 2015:
Punctuality and organisation
Did Matthew the DJ  arrive on time and set up on schedule? Were they well organised?
Marks out of 10: 10
Your comments: Matthew was extremely punctual, well organised and was set up in plenty of time.
Attitude and friendliness
Were they friendly, polite & well presented? Did they project a professional attitude?
Marks out of 10: 10
Your comments: Matthew was very polite, and extremely helpful – using his experience to get the best out of our celebration.
Communication and organisation
Did they contact you before the event and were you happy with their overall communication?
Marks out of 10: 10
Your comments: Yes and Yes
Performance quality
Please grade their performance. Did they live up to expectations? Did you & your guests enjoy them?
Marks out of 10: 10
Your comments: Very good, everyone enjoyed Matthew's approachable nature – he got the best out of the crowd.
Value for money
Do you feel you they were worth the money in terms of quality and effort?
Marks out of 10: 10
Your comments: Very good value
Recommendation
Would you re-book Matthew the DJ  or recommend them to a friend?
Your answer: Without a doubt!
Overall artist reference: The Matthew the DJ  was indeed amazing! Matthew was very friendly and really got the party going. He was very approachable, whilst maintaining a very professional image.
June 14th 2014 Wedding 100+ Half French half English, Château de la Fleunie, Condat-sur-Vézère France
Many thanks to Matthew Le DJ for an excellent service! He was always fast in responding to any questions and queries that we had. He was flexible with the songs he played and was very professional and efficient. He managed to find us some songs at the last minute and kept everyone happy with a varied selection of music and requests. With Matthew Le DJ we were able to relax knowing he had everything in hand, while we drank and danced all evening! Thanks again! Andy & Emilie
*********************
Wedding Bergerac, France July 2014, Hotel 65 Guests:
Hi Matthew The DJ.
Dj was excellent, played our selected songs. got all the aunts up dancing and the guys, the gays and the girls loved it! something for everyone and was able to find our unusual first dance without a problem. was also flexible to end time.
Thanks for the event – we had a fantastic time.
Rob Morgan
(I know, this is a REAL client)
**************************************
August 2nd, Chateau La Durantie, Lanouaille, France, Marquee 60 Guests:
Hi Mathew,
Sorry for the delayed response, we are only just settling back into normality!
We had a fantastic time, the music was perfect!! Thank you so much, you really made the party!!! Everyone had a fantastic time and they haven't stopped talking about it!
Thank you for being so accommodating both in terms of music and staying late to keep the party going!! All of our guests were very impressed!
We would definitely without a doubt recommend you to others!
Thanks again, take care.
Christina and Dean
**************************
Wedding, Aug 16th 2014, Vouharte (North of Angoulême, France) for 150, Marquee, Church Music, PA for speeches, Disco plus marquee sound reinforcement
Matthew was very professional, efficient and most obliging and helpful over our wedding reception party in France. He was fully aware of all the pitfalls of doing this in France, and went the extra mile at every turn to deliver what we wanted. A brilliant job, thank you. I wouldhave no hesitation in recommending him either in the UK or France.
Very satisfied wedding planner in Charante. (James, Church Musician,  friend of bride and groom)
***************************
We just wanted to say a massive thank you for doing an amazing job at our wedding in Vouharte. We had an amazing day and know you played a big part in it. The music and set up in the church was brilliant, as was the music in the evening. Everyone commented on how good the music selection was. I was so so pleased that everyone was dancing all night, and it was so much fun! Thanks for allowing all the requests too!
Kind regards
Becca and Sean. (the Bride and Groom)